Adopt a small breed or tiny Poodle dog ready for adoption from Tiny Paws & Chi Rescue dog shelter near Spring and Houston, TX. Be sure to check our complete adoptable dog list as these are only the rescues we could identify as mostly related to the Poodle breed standards.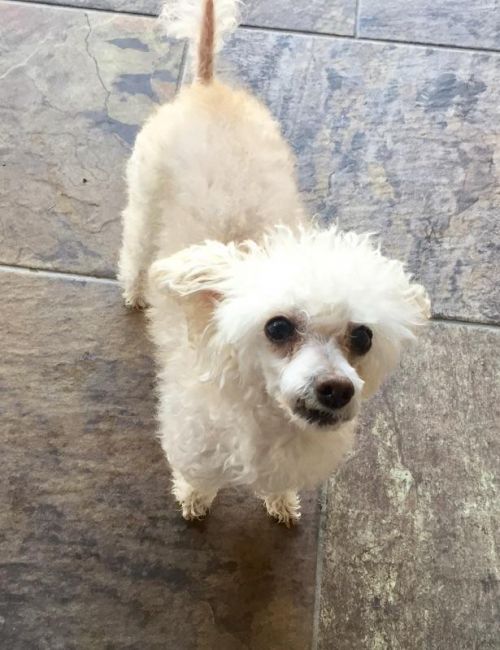 Poodle
Up-to-date with routine shots
Spayed/Neutered
Winnie is a tiny tiny 5 pounds, 9 years young, white poodle that was rescued with her sister Mattie. Previous owner wanted vet to euthanize them, after so many years of devotion, the vet asked Tiny Paws to take them in. Winnie's sister passed away of a broken heart 2 days after they were rescued. Since then, Winnie does her best to fit in with her foster family. She is a total lap girl that loves to cuddle. Winnie gets along well with other dogs, but prefers a human lap. Winnie loves to eat, not food aggressive, submissive, eager to please her human. Winnie will whine when she wants to go outside. It wasn't her fault she had a bad owner. But now, will you please give her a chance to experience love and kindness www.tinypawsrescue.com for an application, please no first time owners and must list your vet contact past or present to be considered.
Adult, Female, Small
Rescue Poodles
Rescue Poodle dogs make a great household pets. Known for being loyal, cuddly and very cute, their coats are also hypoallergenic may reduce allergic reactions caused by other dog breeds. Highly instinctive and if bored have been known to get creative about finding mischief.
Adopt Chihuahua dog | Tiny Paws Rescue Shelter | Spring, Houston