Adopt a small breed or tiny Chihuahua dog ready for adoption from Tiny Paws & Chi Rescue dog shelter near Spring and Houston, TX. Be sure to check our complete adoptable dog list as these are only the rescues we could identify as mostly related to the Chihuahua breed standards.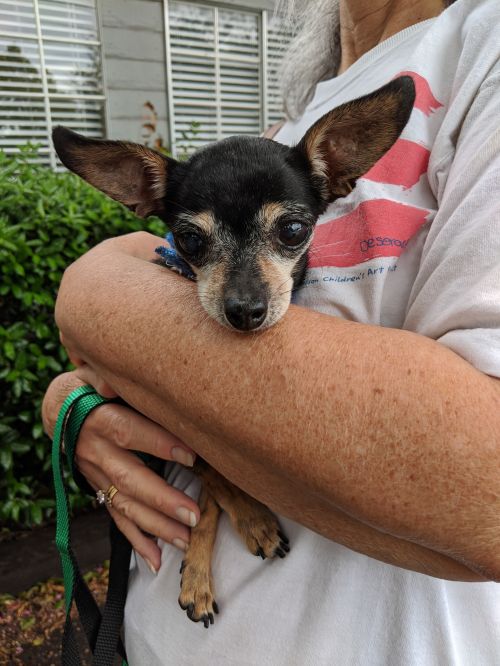 Chihuahua
Spayed/Neutered
Up-to-date with routine shots
Is this not the sweetest face? Zoey is a 4lb., 8 year old girl who is learning to accept love and attention. She was found in the middle of a busy street by a wonderful couple who saved her, then contacted Tiny Paws. It appears she's had a rough life and fear takes over when you approach her. She doesn't know or understand what to do when someone picks her up to love on her. Sometimes she'll snarl or run but once in your arms she relaxes and enjoys your tender touch. She recognizes her name, "come", the rattle of a leash (she loves to go for a walk) and the sounds of eating times. All of her medical needs have been addressed (dental, fistula, spay, mammary tumor removed-benign, microchip). The perfect home for Zoey is calm, quiet, possibly another small older dog, and a very patient, loving adopter. She truly deserves to have all the love and attention someone can give but it will take time to get her there. If this sounds like you, apply at www.tinypawsrescue.com. Please no first time dog owners, no children in the home due to her size, must have an excellent vet reference to be considered and since Zoey is so sensitive best for a quiet home where one is home most of the time.
Adult, Female, Small
Chihuahua Rescue
Extremely smart and brave for their size, Chihuahua should not be underestimated! The breed can be any color – solid, marked or splashed and the coat may be long or short. They are good with families if the children are gentle and patient. Because of their small size, they require little exercise and are good city dogs, but can be sensitive to cold temperatures.
Adopt a Poodle | Animal Rescue | Tiny Paws | Spring, Houston, TX