Adopt a small breed or tiny Chihuahua dog ready for adoption from Tiny Paws & Chi Rescue dog shelter near Spring and Houston, TX. Be sure to check our complete adoptable dog list as these are only the rescues we could identify as mostly related to the Chihuahua breed standards.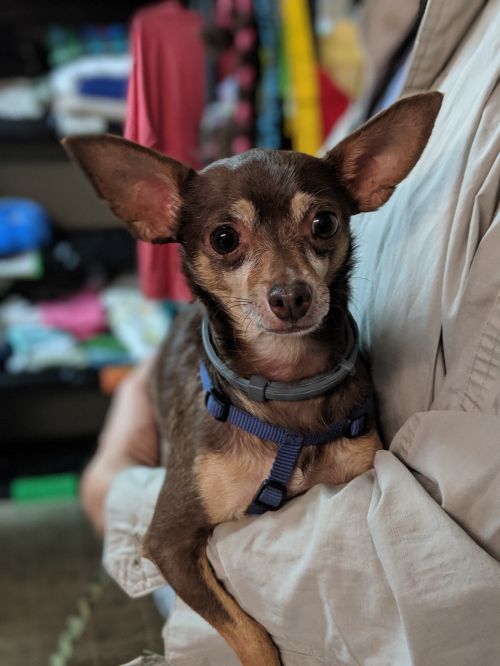 Chihuahua
Spayed/Neutered
Up-to-date with routine shots
Hector is a beautiful 4 year old 6 pound chocolate Chihuahua. He was found in a hotel parking lot in Brenham. He must have been severely abused since he was terrified of everything and if anyone raises his voice he cowers down. He has not had a single accident in his foster mom's home. He's been with them for over a year working on his confidence and trusting people. He adores his foster parents but just takes time to warm up to other people. He has never been aggressive or snippy he just shakes and towers with new people at first. He loves to go in his daily walk and outings with his foster parents. Hector will need a special home and understanding of patience with him. he is used to having free roam of the home and he's a good boy so he deserves that. And he's used to sleeping in the bed with his foster parents and is 3 Foster siblings Www.tinypawsrescue.com for an application. Must have experience with little dogs. And must have another little dog companion for Hector to be with
Adult, Male, Small
Chihuahua Rescue
Extremely smart and brave for their size, Chihuahua should not be underestimated! The breed can be any color – solid, marked or splashed and the coat may be long or short. They are good with families if the children are gentle and patient. Because of their small size, they require little exercise and are good city dogs, but can be sensitive to cold temperatures.
Adopt a Poodle | Animal Rescue | Tiny Paws | Spring, Houston, TX